Urban Decay Shrine
This page is dedicated to my love for vintage Urban Decay products (late 90's-early 00's) with a particular emphasis on the Face Case line, which was my introduction to Urban Decay products. While Urban Decay is by no means defunct and continues to provide high-quality makeup products, their aesthetic and branding have shifted significantly since the early 00's.
In its early days, Urban Decay was a much smaller niche brand that catered more to gothic and alternative ideas of beauty than now: more akin to contemporary brands like Medusa's Makeup, Sugar Pill and Lime Crime than Too Faced or Smashbox. The product names, colors, textures and overall aesthetic provided a sense of navigating a post-apocalyptic wasteland. Explore the UD website incarnation from 1997 here to get a better sense of its origins!
Some early color product names were: ABC Gum, Absinthe, Acid Raid, Asphalt, Asphyxia, Automat, Bruise, Chains, Doormat, DTs, Edens Expressway, Exhaust. Floormat, Frostbite, Gangrene, Gash, Graffiti, Hazmat, High, I-5, Laundromat, Litter, Live Wire, Mildew, Oil Slick, Ozone, Pallor, Pigeon, Plague, Radium, Rat, Red Light, Roach, Road Stripe, Route 66, Rust, Salmonella, Scream, Shattered, Smaze, Smog, Snow, Soot, Spare Change, Stray Dog, Storm Drain, Toxin, UV-B, Uzi, Vapor, Violence, and West Side Highway. While some of these colors are still available, for the most part, the brand's color names tend to reflect more mainstream interests and aesthetics, and the evocative nature of the products toward a post-apocalyptic or decaying landscape has been lost.
The aim of this page is to collect information about products from UD's early days that I find particularly noteworthy. Here, I include all available information about the products, including release dates, packaging, colors, etc. as well as pages and blog entries online which I have referenced or which provide further information or images.
Note: I estimate release dates for these products based on the oldest mention I find of them online (usually reviews on Makeup Alley). Therefore, my release dates may be incorrect.
See and try the Vegas Looks Eldorado, Lounge, and Strip from Fall 2000 here.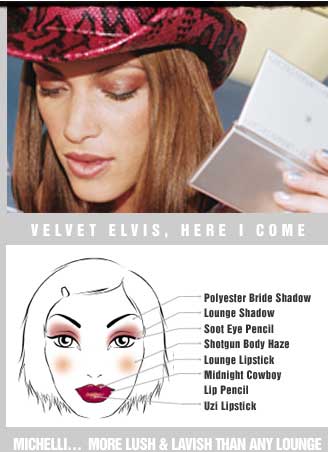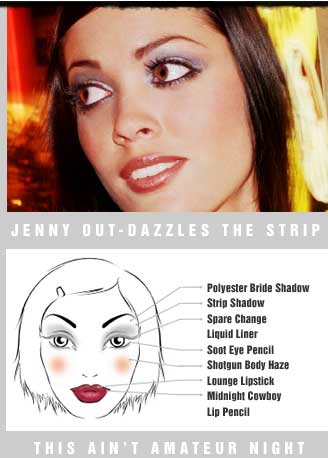 Page Navigation:
---
I refer here to the Urban Decay Face Cases from the early-00's, in the metal case, as opposed to the later face cases in cardboard cases. Colors not discontinued are linked to Urban Decay's website. The face cases releases were: Nymph to Glam (2001), First Date to Pinup (2001), China Girl to Starlet (2001), Bad Girl (2001), Rock Superstar (2001), Side Show (2002), Gypsy Den (2002), Sell Out (2003). You can see the face cases introduced in this 2001 version of the UD website.
The Complete List:
Nymph to Glam (2001)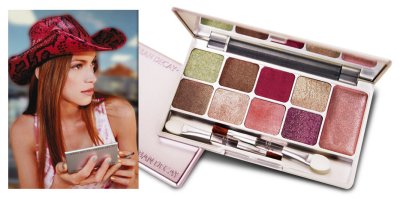 The model on the front of the packaging is Michal Towber, a singer-songwriter who partnered with Urban Decay and modeled some of this product line. On the packaging, Michal has fair skin and medium-brown hair. She's wearing a tie-dyed pink and white tank top and a pink snakeskin cowboy hat. Her makeup colors are soft neutral pinks.
Eyeshadows in Speed, Polyester Bride, Stalker, and Acid Rain
Lipsticks in X and Asphyxia
Lip Gunks in Litter and Bruise
Body Haze in Uzi
First Date to Pinup (2001)
China Girl to Starlet (2001)
The packaging features a model/singer who wears the colors in two different looks.
Eyeshadows in Twisted, Uzi, Oil Slick, and Shotgun
Lipsticks in Uzi and Fur
Lip Gunks in Shotgun and Kiss
Body Haze in Shotgun (later versions have Paranoid instead, according to one review)
Bad Girl (2001)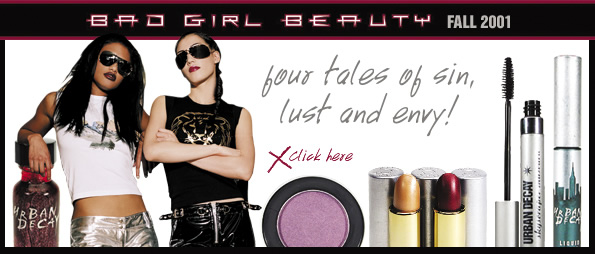 Click here to visit the 2001 UD website and see the Bad Girl Beauty looks.
The model on the front of the packaging is wearing a black tank top with a dog on it. She is pale, with long dark hair, a long, slim braid of it draped over one shoulder, and is wearing black heart-shaped sunglasses. Her lips and nails are a deep red hue.
Eyeshadows in Sin, Lust, Envy, and Uzi
Lipsticks in Lounge and ABC Gum
Lip Gunks in AC/DC and Tart
Blush in Paranoid
Rock Superstar (2001)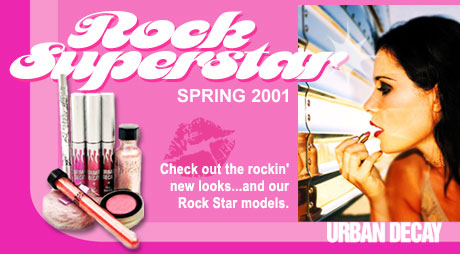 The model on the front of the packaging is fair with dark brown hair in braids. She's wearing a pink- and lilac-printed tank top and black watch. Her nail polish is a shimmer pink color. In the picture, she's applying pink lip color while looking into the mirror of a face case. The packaging reads, "When you hit the road, you need a complete look in one little case. Four shadows, three glosses, a lipstick, all over sparkle, applicators, and instructions small enough for your purse, big enough for lots of looks. (Three rock superstar looks shown on our favorite new recording artists-- instructions inside.)"
Eyeshadows in Oil Slick, Asphyxia, Hotpants, and Polyester Bride
Lipstick in SWF
Lip Gunks in Hotpants, Asphyxia, and Buzzkill
Glitter Gel in Disco Inferno
Side Show (2002)
The model on the front of the packaging has been previously named on the site as Min, with a medium skin tone and long, dark hair. She's wearing a red and black T-shirt and studded silver bangle. Her nail polish and eyeshadow has a shimmery lilac hue. In the picture, she's applying pink lip color from a face case. The packaging reads, "Step right up. It's a carnival of colors and a whole lot of looks in one little case. Four shadows, one lipstick, two lip glosses, an extra shiny gloss, powder blush, applicators and instructions. Small enough for your purse. Big enough for lots of looks."
Eyeshadows in Crash, Grifter, Acid Rain, and Midnight Cowgirl
Lip Gunks in Asphyxia and S&M
Lipstick in Chaos
XXX Shine Lip Gloss in Carney
Powder Blush in X
Gypsy Den (2002)

The model on the front of the packaging is fair, with light eyebrows, black eyeliner on her bottom eyelid, and a pale lipstick. She's wearing a pink and green brocade blouse and a pink scarf tied across the top of her head, with long, dangling earrings.
Eyeshadows in Goddess, Mildew, Polyester Bride, and X
Lipstick in Gash and Scratch
Lip Gunks in Biker
XXX Shine Lip Gloss in ID
Blush in Paranoid
Sell-Out (2003)
The model on the front of the packaging has dark hair and is looking over her bare shoulder and back with a sultry expression. It looks like she has a tattoo in the middle of her back. She wears a deep-colored eyeshadow and dark-pink blush and lip color. Packaging reads: "We sold out! You cried out for our greatest hits, and we released them all in this one little case. Four must-have eyeshadows, our best-selling lipstick, three hot glosses (one extra shiny) plus a powder blush, applicators, and instructions, small enough to take with you from day to night, big enough for a weekend away."
What I Got: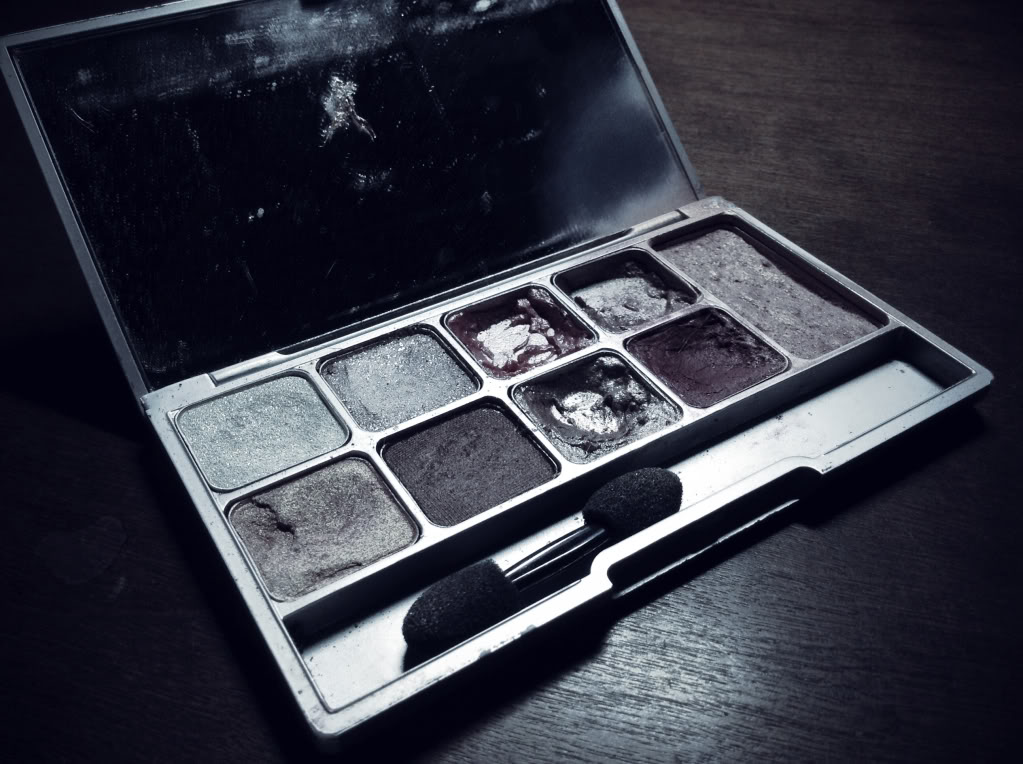 My first face case was the Sell-Out Face Case from Sephora in the Parks Mall at Arlington in the early- to mid-00's. This was hands-down my favorite makeup piece for over ten years before I finally discarded it (it had become dirty/contaminated-looking, and I felt it was no longer safe to use). I have seen this and other UD Face Cases for sale on sites on eBay and Poshmark, ranging from $5-$80. The retail value of the cases were originally around $34.
Like many of the products I have listed in the Makeup Shrine, the Face Case was not a perfect product. As you can see, the blush is right next to the XXX Shine Lipgloss and lipstick, which meant that often I would swipe those lip colors up in my blush brush. A small amount of the lip colors would then be transferred to the blush, making it more difficult to apply, while an even greater amount of blush would dust onto the lip colors. In particular, the lipstick "Gash" was always covered with an ashy layer of blush.
In my early 20's, "Polyester Bride" and "Midnight Cowboy" were my favorite eye colors, while I leaned more heavily on the lip gunks, and in my early 30's, "X" and "Roach" became my preferred colors, along with the "Gash" lipcolor.
I discarded the case, since most of the products in the case were still available for purchase: the four eye shadows, and the Gash lip color. However, I miss this case as an object. As many reviews have mentioned, these cases have a particular feel and smell to them.
Update: as of August 2019, I purchased the Bad Girl Face Case in like-new condition from a Poshmark seller for $35. I didn't think it would top my memories of the quality of Sell Out, but I was wrong! The colors are top-quality and exciting.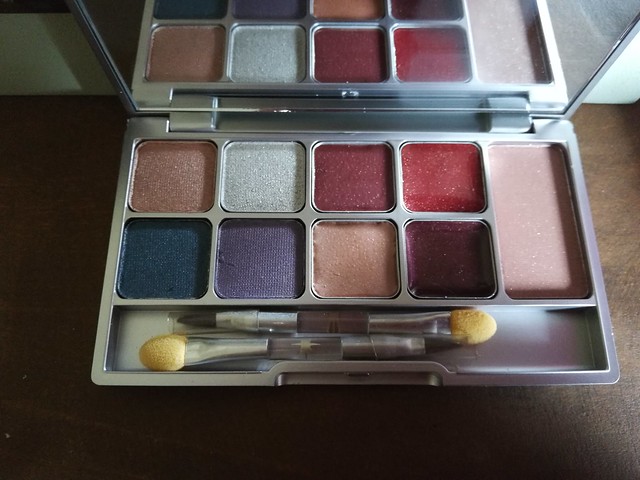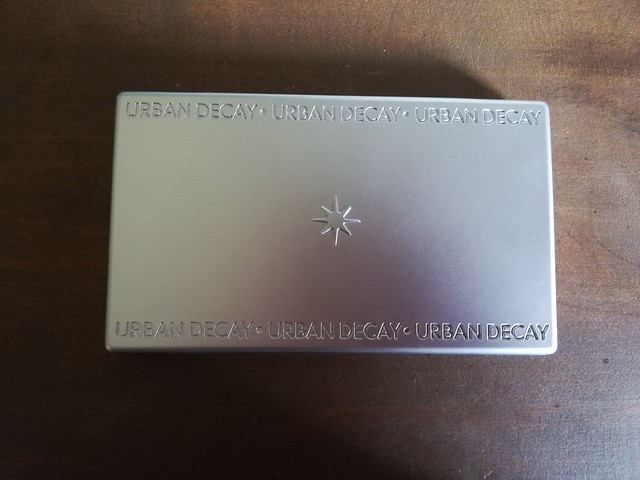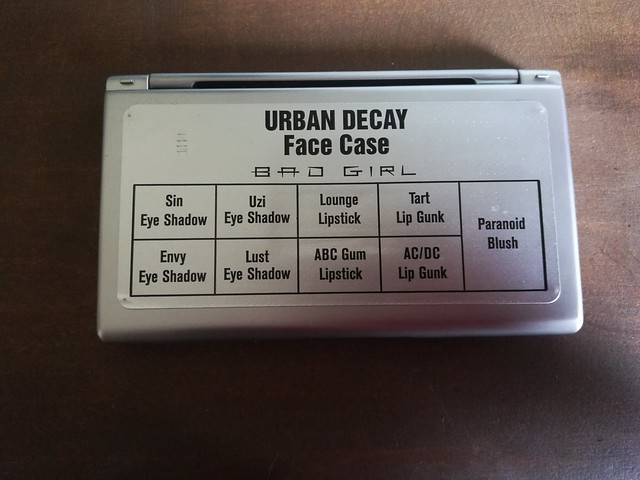 Face Case Links:
A story about how Urban Decay and the furnace guy...
Makeup Memories | Urban Decay Nymph to Glam Face Case
Search results for Urban Decay Face Case at Makeup Alley
Throwback Thursday: Urban Decay Face Case (Gypsy Den and Nymph to Glam packaging pictured)
Urban Decay Face Case 1st Date to Pin-Up
Vintage Urban Decay thread on Reddit (picture of Gypsy Den palette)
---
Blancmange's Urban Decay fan site
Vintage Urban Decay gallery on Pinterest
---
This page © 2019 by Porcelain.
Background Credit: My Free Textures